The Cape Wrath trail is a hard, wet hike from Fort William to a remote lighthouse at the top left hand corner of Britain.   I walked it with a couple of friends,  in three separate weeks.
This walk is easily the best way to spend 3000 calories a day,  if you have them to spare, which I did at the beginning.
Much of the route is off track so we had to follow compass headings across bogs and mountain terrain. The pace often slowed to one mile an hour.
We had to carry up to five days food at a time on some stretches, because the shops were so far apart.  The days we spent tramping through the Rough Bounds of Knoydart were especially tough.
The idea
During a New Year party, I heard Martin and Dom say something about a wild walk in Scotland,  and I mistakenly nodded,  mostly because the music was too loud.  One drunken nod and I was committed to weeks of toil.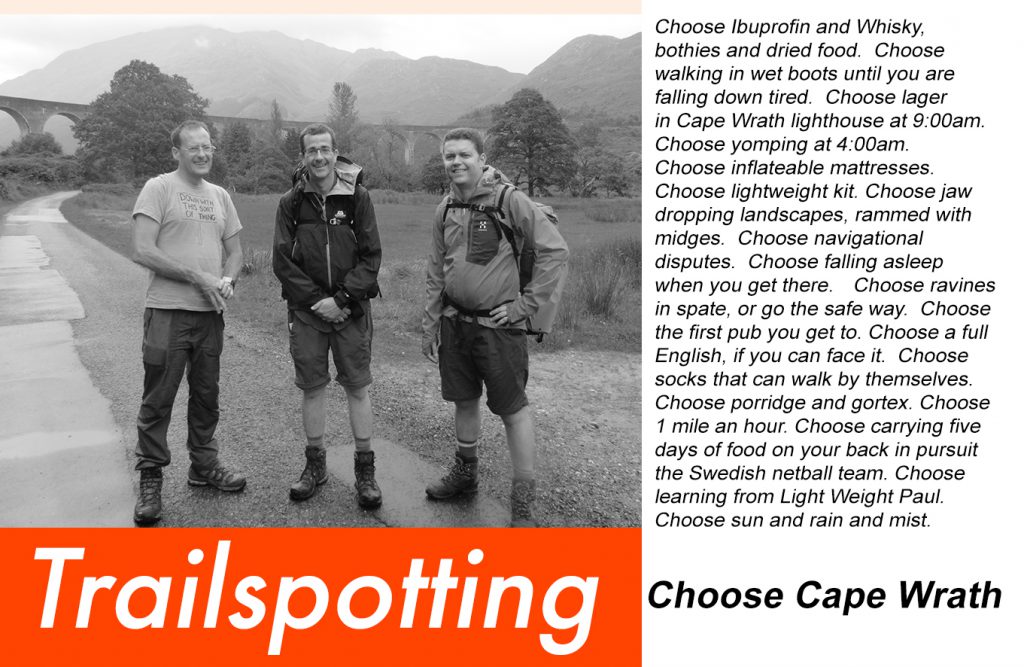 Friends on the walks
We've known each other since our kids were babies and have had lots of holidays together, but you can truly get to know somebody when they are foot sore, tired, hungry and lost.  
Martin invented the element Selenium, or something,  and spends a lot of time trying to get it sprinkled on poor soils around the world.
Dom worked in underground in a gold mine at the age of 17 and went on to invented radar, or something. He regularly morphs into the funky guitar player of Fat Digester, Nottingham's foremost collective of laid back musical geniuses.
Martin was himself once mentioned in the New Musical Express when his band, Telstar,
The route
(being written)